Welcome to the A Dance with Rogues Wiki
1,165 articles since March 2009
WARNING
The A Dance with Rogues series is intended for adults only. It contains adult content and strong language and many pages on the wiki will reflect that.
29 March 2022 - New Version for EE
A new version has been uploaded to NWVault.
The new version requires new hak packs installed from the site as well. It makes extensive use of new tile sets and has parts of the story rewritten as well -- some quite significantly.
07 July 2014 - The NWN2 Vault is gone

It appears IGN was no longer interested in hosting the NWN2 Vault anymore as it's been taken down. Head over to the new vault for project pages and downloads:
16 October 2010 - Part One v1.50, Part Two v1.23, and ACAG 106 released

Valine has released Part One v1.50 and Part Two v1.23, as well as ACAG 106! The updated ACAG is required for both versions. The update for Part Two is just for the new ACAG, but it sounds like Part One has some more interesting changes. Here's the announcement:

I'm still working on an update for part two in order to bring it into line with the changes I've made with part one (Simon's and Arto's roles, for example). However, as I'm still tossing around and discarding ideas, it's probably going to be a while before I'll be able to uplaoad that update to the vault. I'm sorry that things are going kind of slow there, but I'm not yet happy with the changes done so far, and I don't want to publish versions I'm not happy with.
In the meantime I've got a (smallish) update for part one. The changes I've made here kind of reflect the general direction I'm trying to go with the update for part two (see the new and hopefully improved "Tony the Tiger"- und "Missing Pia"-quests).
There's also a new version of the hakpack (ACAG106) that's going to be required to play the latest versions of the modules.
18 April 2010 - Part One Walkthrough updated for v1.40

It took a while, but the Part One walkthrough should be mostly up to date for v1.40, with much of the work happening in Welcome Home and Bank Raider to cover the new additions to the game. The wiki also turned 1 year old last month!
21 October 2009 - Part One v1.40 released

Valine has released Part One v1.40! Head over to the Part One project page on the Vault and grab it now. Here's the announcement:

I have uploaded an updated version of part one (V1.40). It uses the current version of the hak pack (ACAG105).
There are a couple of really big changes in the update, and although we've tried to test things thoroughly, it's always possible that the module won't behave like it's supposed to. If you encounter problems, please post them here.
And, as always, I hope you'll have fun playing this.
16 October 2010 - Part One v1.50

Features updates to the Tony the Tiger and Missing Pia quests. Requires NWN 1.69 and ACAG 106.
16 October 2010 - ACAG 106
Helping out
To write a new article, just enter the article title in the box below.
<createbox> width=24 break=no buttonlabel=Create new article </createbox>
Not sure where to start?
Adding content
Talk and more...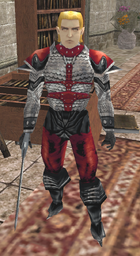 Simon Lyonson is a prominent Dhorn noble that lives in a large house on the Isle of Men in Betancuria South. He is good friends with Jero and Alen Kley, and can sometimes be found with Jero at Tald's Tavern. Simon doesn't share the same stern views on women, sex, and prostitution that some of his Dhorn counterparts have. His role has been expanded dramatically in Part One v1.40.   Read more...
Previous: Which chapter of Part One is your favorite? (comments)