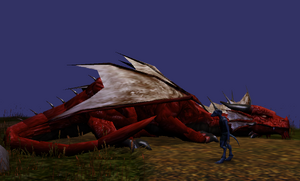 After the Princess arrives at the City of Dwarves and enjoys the pleasures of Dwarven Inn, the party is invited into the Loremaster's Hall. There Loremaster Namli offers the Princess the opportunity to go through their tunnels, but asks in exchange that she kill Sziths, a red dragon who frequents the area and has been causing problems for the Dwarves. She is asked to bring the dragon's head as proof.The Princess is not given Sziths' location and has to roam available areas on her own until she finds him. Actually, some of the party members think that the whole deal is a clever way for the dwarves to refuse the Princess's request for a passage through their territory. Yet the Princess succeed in completing this quest and even managesto put her hands on Sziths' treasure, much to the Dwarves' envy.

Notes
The Princess cannot find the dragon unless she meets Screek.
Red Dragons have aura of fear and breath fire. Equip yourself accordingly.
During this quest the Princess learns that some dragons have a soft spot for cats, and like to lick girls.
Walkthrough
[
]
See Chapter 2: Black Mountains: Forest