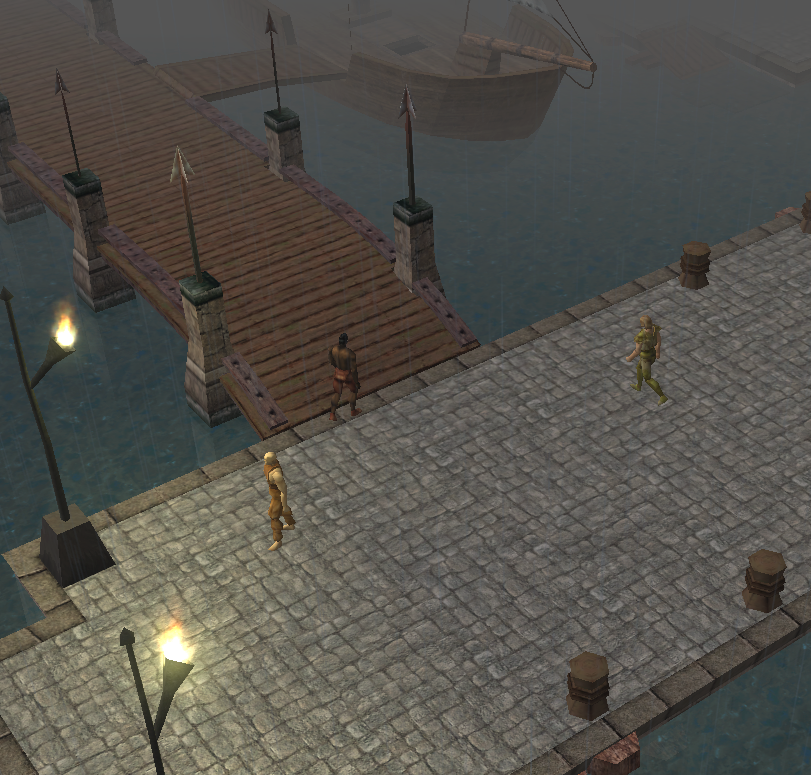 While walking around the harbor in Betancuria South, the Princess may be approached by sailors and other docker workers who will propose that she sleeps with them for money. Alternatively the Princess can herself engage this line of conversation with them. If both are willing, the pair will go to an empty dockhouse to bargain for the price and to "do the deed".
The first time the Princess sleeps with a sailor or dock worker she will receive some XP and the "Whore" journal entry under the completed quests, noting that "I took money for..."
The Princess can continue to sleep with the harbor workers, up to once a day. The men can be found in a nearby tavern in the evening. These sexual interactions can improve her knowledge of the Arts of Love, up to a level of 5. A high "special" or "sexy skill" will allow for slightly different experiences, including expanded dialog options and receiving more gold. There is a risk of catching a disease from the workers, which will usually pass in a day or cured by a healer or a nice bath.
The willingness of the sailors to go with the Princess depends on her Charisma and varies depending whether she has already "worked" on the same day. When agreeing on the price, a CHA roll is made; the DC seems to vary depending on the requested price and the type of act. The base DC is the price, and the act applies either a multiplier or a modifier.
Spoiler: One sailor (chosen at random only once when you first enter Betancuria South) is Special Agent Tanners, an undercover Dhorn agent, who is actively seeking out prostitutes and arresting them. If caught, you can try to persuade him that it's in his interest to let you go or attempt to break free and fight him. If your persuasion succeeds, two Dhorn soldiers will interrupt and attack you both. Vico will show up to assist in the fight, indicating that he has been secretly spying on her. Agent Tanners possesses a Keen short sword.
Notes
Even if the Princess decides to sleep with the sailors due to the Top Secret optional quest, she will nonetheless be branded as "whore" in her journal.
In previous versions, killing a client who attacked the Princess after not agreeing on a price caused an alignment shift of 10 towards evil. This is no longer the case with version 1.30.